A leader in the Development and Management of high-quality facilities and Business Parks
The Rohan group of companies provides three primary business offerings, as follows:
Rohan is one of Ireland's longest standing private property investment and development companies.
With over 40 years' experience in land acquisition, design, planning, construction and occupier fit out, we have a proven track record of delivering projects on time, within budget and to our clients' satisfaction.
We, as property owners, managers and developers, are primarily focused on the acquisition and development of prime commercial space and excel in the creation of high-quality, actively managed business environments that create and sustain investment value.
Rohan's ability to deliver quality environments is most evident in our projects, and we are very proud to count amongst our clients many leading local and global businesses.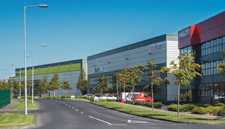 Rohan PM has extensive experience and expertise in developing office, industrial, warehouse and logistics facilities. Our focus is to use our knowledge and professionalism to deliver savings and certainty to your project.
We deliver SAVINGS by value engineering projects in terms of both cost and time.

We support your requirement to CONTROL the project.

We manage the SUCCESSFUL delivery of your project.
Rohan PM can manage your project from Concept Phase right through to completion of the Fit-Out Phase. Depending on the nature of your project, services available from Rohan PM during the project lifecycle can include any or all of the following:
Project Start Up / feasibility and team selection.

Design team co-ordination / liaison with Statutory bodies / procurement & tendering.

Project management throughout construction phase / cost control and reporting.

P.C. process including handover / snagging / compliance.

Management of fit out and occupation.
Rohan Estate Management Ltd. is a specialist property company focused on the management of business parks and industrial estates. We maintain the developments we manage to the very highest standards and thereby maximise tenant satisfaction and asset appreciation, while achieving value for money in provision of services.
It is a combination of 40 years' experience, proven professionalism, our commitment to innovation and value for money, together with the special understanding that comes from being Property Owners, Managers and Developers that makes Rohan the ideal property partner.
We actively manage business parks through:
Financial reporting and day to day management.

Budget preparation and service charge control.

Maintenance planning and contractor management.

Routine inspections.

Collection of rent, service charges and Insurances.

Tenant liaison.

Lease management.

Landlord and Tenant advices.

Lease negotiations / renewalsand rent reviews.
Dublin Airport Logistics Park has a range of available units and offers extensive design and build opportunities.
Find Out More